I'm currently sitting in a hotel in Gulfport, Mississippi typing this entry. For those of you not in the know, my uber secret job working for The Man is why I'm down here right now. The specifics of my job shall remain unstated for now, lest I have to go to your house and kill you.
Anyway, in my previous life in the Air Force, I was briefly stationed next door in Biloxi, MS for three months, so this isn't my first time down on the gulf coast. Let me paint a picture for you of what Gulfport looks like: big 6 lane highway lined by Waffle Houses, Hooters, and then more Waffle Houses. Here is an analogy for those of you who managed to score above 600 on your SAT (those of you old enough to remember the old SAT with a max score of 1600)
Waffle Houses : The South :: Starbucks : East Coast
Seriously, these little yellow and brown huts are on EVERY corner down here. Looking out my window, I can see TWO Waffle Houses. On the same side of the road. Less than half a mile away from each other. WTF? Not that I should complain too much, as I crave and desire their hash browns like they were made of liquid crack.
My co-worker and I went to Hooters our first night here. Let me tell you my problem with Hooters: the wings are too anemic, and the waitresses wear these weird tights that make their legs look like rubber. I think it makes their legs look like Barbie doll legs, but not in a good way, in a creepy "You look like you're made from wax" kind of way. Anyway, any man who swears up and down that he goes to Hooters because the wings are so good is a liar. Trust me, I know good wings, and Hooters are adequate on their best day. People go to Hooters to ogle boobs, and nothing more. Question: why am I paying good cash money for wings that I don't like that much and trying in vain to picture what the fun bags look like on my waitress with the weird rubber legs, when there is an establishment immediately next door to the Hooters here labeled "Michael's Night Club", which I'm fairly sure has actual naked titties and will probably give me food of at least the same quality?
Here is another interesting factoid about the gulf coast of Mississippi you may not know: It is apparently humid here ALL THE TIME. Therefore, not only must I contend with the noise from my air conditioner, which has a manual "fan off/fan low/fan high" dial and is NOT thermostat controlled and therefore runs ALL NIGHT LONG, I must also deal with the near constant whirring of the dehumidifier unit in the room.
Did you know that Biloxi has a booming casino scene? Well, it does. I played at the Beau Rivage tonight, doubled my money at the blackjack table, and had a great time. My table was populated by non-smokers, the table was hot (paying out big for all playing), and the lady sitting next to me was a sweet and hilarious old bird. She is also apparently one of the "League of Their Own" women - she even gave me her baseball card. How awesome is that? This is her, by the way: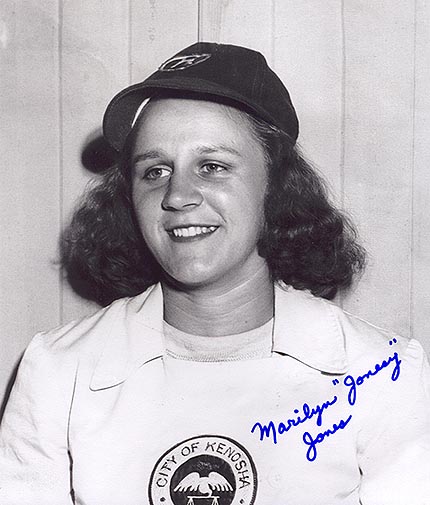 One final steam of consciousness rant: have you ever wondered what a golf course would look like if they never bothered to water it? Well, wonder no more, because I have seen it with my own eyes. While the gentlemen at the Keesler AFB golf course were very friendly and wonderful, their groundskeeping left much to be desired. Golfing there was like golfing on the surface of Mars.
In summary:
boobies, waffles, there's no crying in baseball, and always remember to split 8s and aces.
.