Lots of good stuff to talk about this week, so let's get right to it.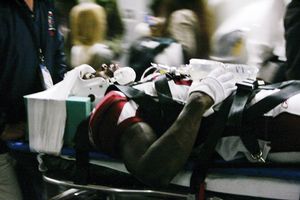 Worst. Trip. Ever.
Poor Arizona. They went on this road trip two weeks ago, looking good at 2-0 and starting to move up the power rankings.
Kurt Warner
was turnover-free, the offense was clicking, and the defense had two great games. They lost a tough game to Washington. Then they didn't get to home since the team decided to just stay on the East Coast and practice there, rather than travel back and forth. Then the Jets put up a whopping 56 points on them. And finally, in a rather futile attempt to try and narrow the score, with 27 seconds left in the game (and down by more than 2 scores), their star receiver
Anquan Boldin
suffered a nasty helmet to helmet hit that knocked him unconscious and caused him to lay there helplessly until they managed to backboard him and cart him away (note: apparently
Boldin checked out okay
, but it was very scary for everyone at the time). Now they're 2-2 and looking rather mediocre. I'm guessing the Cards can't wait to get home after these two awful weeks.
I stand corrected.
The problem with making pronouncements and predictions early in the season is that it doesn't matter what the landscape looks like in weeks 1-2. It matters how things look in week 16 and 17. You can get a team like the Lions, who fool you with a 6-2 start, only to self-destruct in the second half of the season. You can get a team like the Giants, who looked terrible at beginning of the year, but ended up winning the whole damn thing. So, allow me to make the following corrections:
The Chiefs are no longer absolutely terrible. They're not good, per se, but they did finally look like they got a little something going on offense in their upset of the Broncos. So, they're off my "teams I don't like" list for now.
The Redskins are not terrible. In fact, they're playing like champs right now, with wins against 3 legitimate teams. Jim Zorn really has this team clicking right now. And young Jason Campbell seems to really be benefitting from the tutelage of a former quality QB.
Brett Favre

may

have been worth the 2nd round pick after all. On the other hand, I'd rather have 2 TDs a game that matter, versus 6 in one game, so I'm not 100% sold yet. However, he does give them a shot at the playoffs, which they wouldn't have had otherwise.

Allow me to make a few suggestions.
I'm not going to bother with teams that are terrible (see: Lions, Rams), because the only suggestion I can make would probably be along the lines of "Why don't you just go kill yourself?". Other teams like the Dolphins and Falcons have probably righted the ship, but will need a year or so to come along. However, there are a few teams out there that have a good shot at playoff success right now, but have a few things that may end up biting them in the butt if they don't fix it.
The Bills need to learn to start faster on offense. They can't keep relying on fourth quarter heroics to save them. It should not have taken them 2 full quarters to figure out how to score on the Rams defense.
The Eagles need to learn to play less conservatively. 4th and 1 from the goal line, and you run

Correll Buckhalter

straight at the Bears defense?! Jesus. Andy Reid's play calling is going to be the downfall of that squad. Also, speaking of goal line running, that would go a lot easier if they'd invest in a true power runner, which they do not have.
The Broncos obviously need to work on their defense. But I also think that they need to put more effort into establishing the run game. If they want to be a pass-first offense, fine, but on occasion you're going to run into a defense that can shut down

Cutler

, and you're going to need a decent running game to get through those games. This running back by committee nonsense isn't going to cut it.

The Packers shouldn't panic yet - they lost to 2 good teams. However,

Ryan Grant

is clearly not 100% recovered from his injury and is KILLING them with his fumbles. Two weeks in a row he's fumbled and had it result in a TD, and that has made the difference in those games.

Studs of the week.
Incredibly,
Brett Favre
still manages to set personal bests, putting up 6 TDs for the day.
Laveranues Coles
was the beneficiary of 3 of those TDs from Brett, and also had 105 yards.
Larry Johnson
was impressive with 198 yards and 2 TDs in the Chiefs upset of the Broncos.
Drew Brees
, you are the man, with yet another 300+ yard, multiple TD performance.
Jason Campbell
didn't have a huge fantasy day, but was the key to the Redskins' upset against the Dallas Cowboy. Sometimes being a stud is about more than just numbers (which is why Kurt Warner isn't on this list). And lastly,
Matt Bryant
makes the list, for going out and kicking a hell of a game under the most horrible emotional circumstances I can think of (he buried his 3 month old son on Saturday, then flew in, joined the team on Sunday, and kicked 3 FGs that made the difference in the game).
Teams I like this week.
They had me a little worried in the first half, but the Buffalo Bills rallied and looked like the #1 team in the AFC East. Ditto for the Tennessee Titans in the AFC South, who should scare a lot of their opponents at this point. Meanwhile, the Washington Redskins are starting to make a believer out of me. They haven't had a single offensive turnover this season. Amazing.
Teams I don't like this week.
You may have
fired Scott Linehan
this week, St. Louis, but there is no helping your feeble defense out. Philadelphia - you're a better team than that, but you've got the Redskins next week, and may be staring down the possibility of starting 2-3 for the season. Cowboys, I have no idea why you decided to keep the explosive Felix Jones completely out of the offense in a close match-up.